At a glance…
In our opinion, Marathon GPM is one of the toughest watches in 2021. Designed in Canada, made in Switzerland, with a Japan-made movement (Mechanical Seiko 24 Jewel NH35 self-wind).
Marathon watches typically have a specific military, tactical, or professional use in mind, but the 'GPM' (general purpose mechanical) is a very reliable all-rounder at a fair price.
Our Top Pick
Best Value
Most Durable
Watch
Casio G-Shock GW-7900-1ER
Omega Speedmaster Moonwatch Professional
Our Top Pick
Best Value
Watch
Casio G-Shock GW-7900-1ER
Most Durable
Watch
Omega Speedmaster Moonwatch Professional
Last update on 2021-07-13 at 01:43 / Affiliate links / Images from Amazon Product Advertising API
In a hurry? Check all our recommended brands and products.
---
No time to die
You don't have to be James Bond to want a watch that can survive any mission.
In a product category such as watches where the price tag quite often exceeds hundreds or even hundreds of thousands of dollars, it's wise to look for brands and products who's design emphases ruggedness, durability, and longevity first.
You can purchase models designed for specific activities like a military watch, field watch, dive watch, or tactical watch.
Timepieces are also powerful symbols of quality, craftsmanship, and technical excellence, and you should feel confident passing a watch down through generations as it maintains the same steady timekeeping abilities as it did on day one.
So, to ensure you only spend money on watches that will capably stand up to punishment for years and perhaps generations to come, we've sifted through the toughest watches on the market and found the best of the best.
Advertisements
Read on for our comprehensive list of the most rugged watches in 2021, complete with user-reviews, feature comparison, and a Rugged Ratings score for each entry.
First, let's discuss what it is that makes a watch truly 'rugged'.
What are the toughest watches?
Watch brands utilize many different approaches to ensure strength and resistance to all types of environmental stress.
Tough watches are often designed with specific disciplines, activities, or groups of people in mind such as deep-water diving, piloting an aircraft, or being a Navy SEAL.
For us, a truly tough watch should have one or all of the following Rugged Rating features:
#BIFL
Rugged – Watches with all round toughness and durability
Composed of durable materials
Military standards for shock resistance, water resistance, and scratch protection
Long-lasting battery capacity or solar recharge
Repairable – Watches that can be repaired
Replaceable batteries
Regular servicing
Upgradable – Watches with optional additional features or components
Different straps or faces
Multipurpose – Watches that perform multiple functions beyond timekeeping
Radio receivers
GPS tracking
Atomic timekeeping
Altitude and longitude measurement
Biometric sensors
With that being said, let's start taking a look at some of our favorites.
We'll list the top 6 watches that truly impressed us with their design, good looks, and features, but most of all their ability to withstand severe punishment.
We've picked a range of watches that will suit everyone's budgetary needs, so you don't have to spend a fortune to get a watch that lasts a lifetime and beyond.
Let's begin with our first price category, low-end tough watches.
Advertisements
What are the toughest low budget watches?
You shouldn't have to spend thousands (or even hundreds of thousands) to get a watch that will last. And thanks to brands like G-shock and Garmin populating the niche for lower budget, 'rugged first' watches, you don't have to.
Watches that are designed to be 'standard issue' for military or tactical use are often lower-budget by design, but that doesn't mean they're any less tough.
These watches, at least on paper, go toe-for-toe with the big boys like Omega and Breitling when it comes to toughness, but for a fraction of the price.
They may not be as shiny and you probably wouldn't wear them to a high-stakes poker game like James Bond, but they certainly tick the durability box.
G-Shock GD-350-1BER
If you know tough watches, you've probably seen a casio G Shock watch. Crafted with consideration for resistance to all manner of punishment, they are the watch brand of choice for military and tactical use.
We loved the GD-350-1BER for its marriage of real durability and budget-friendliness.
There are a few design innovations that give all G-shock's their famous toughness. First, their patented 'Hollow Core Guard Structure' design, which secures the interior module of the watch so that it's 'floating', supported by cushioning material that re-disperses shock outwards, protecting the important stuff.
The protruding bezel is the only available impact point when dropped, saving the scratch-resistant watch face from serious damage.
These design features make the GD-350-1BER shock resistant for impacts and drops, as well as vibration-resistant for use in heavy-duty operations, making it perfect for professions such as construction. Finally, this model is water-resistant to 20 bar or 200m in depth, so you can go crazy with the splashing or diving.
As for other features, the GD-350-1BER has LED auto-light illumination that activates when the watch face is tilted towards you, a mute function that silences all button-clicks and alarm tones for discreet operations, and a world clock for time-keeping in major cities around the globe.
The one downside for this model is the lack of solar charging.
The battery capacity lasts 5 years before it needs replacing, which is pretty good for a $100 watch, but if you want peace of mind for your battery life, see our next entry!
Takeaway points for Casio G-Shock GD-350-1BER:
Most budget-friendly
Impressive water resistance depth
PRICE: Around $100
PERFECT FOR: An affordable watch that's perfect for military or tactical use
Last update on 2021-05-19 at 17:11 / Affiliate links / Images from Amazon Product Advertising API
---
G-Shock GW-7900-1ER
The GW-7900-1ER takes everything the GD-350 has but bumps it up a notch.
Not only is it tougher in a few key areas, but it also at least doubles the number of neat features to pull together a highly specced timepiece that still won't break the bank.
In terms of timekeeping, the GW-7900-1ER is the more precise model, utilizing radio-controlled Multi-Band 6 Atomic time updates which offer exceptional accuracy.
As with the prior entry, this watch is water-resistant to 20 bar or 200m, vibration resistant, and low-temperature resistant down to -14 degrees F.
However, this model levels up the shock resistance significantly, as it's tested to withstand 10 metre drops with no issues and "sustain hammer blows with significant force". Good to know.
Another key difference between the two G-shock models is in the power. This model uses solar to charge its battery, with a high-capacity solar-charging module for near-constant operation with a minimal impact on the environment.
For the more worldly adventurer types, this model is also fitted with a moon age display that shows the current phase of the moon based on your chosen location, and even a tide graph which displays nearby tide levels.
Takeaway points for Casio G-Shock GW-7900-1ER:
Great timekeeping for a lower budget watch
Solar powered
PRICE: around $130
PERFECT FOR: Travel explorers and adventurers who want a watch that won't quit for a reasonable price
Last update on 2021-07-14 at 19:10 / Affiliate links / Images from Amazon Product Advertising API
What are the toughest mid budget watches?
At this price range, you can expect a little more from your durable watch. These tough watches are not only built with heavy-duty use and abuse in mind, but often have military standards to support their claims.
Typically made from stronger materials like metals instead of plastics, these watches are not only extremely durable and multifunctional, but also easy on the eye too.
You can expect to pay at least a couple of hundred bucks for these watches, but they will hopefully pay you back with a lifetime of use.
Suunto Traverse Alpha Stealth
The name 'Suunto' comes from the Finnish word suunta meaning 'direction' or 'path', which is appropriate for this Finland-born and made timepiece that prides itself on advanced navigational abilities.
Suunto watches are designed for the true outdoorsman, and this particular model takes that promise to the next level. The Traverse Alpha Stealth is perhaps the ultimate rugged timepiece for fishers, hunters, and outdoor navigators.
Made from a combination of composite, stainless steel case, and Sapphire crystal lens, this watch is tough, and the proof is in the MIL-STD-810G standard it has, as well as the promotional video [1] showing the watch get burned, vibrated, dropped, dipped, struck, and even completely encased in ice. Spoiler alert – it survived.
The Traverse Alpha is a combined GPS/GLONASS watch, and with double the navigational systems behind it, you benefit from increased accuracy and reliability of your geographic reading.
Not only that, but it has specific functions for hunting, fishing, and exploring. Shot detection recognizes when you fire your gun and records your latitude and longitude to note areas with plenty of wildlife.
The 'breadcrumbs' feature records your exact route for the day so you can easily navigate home along with the digital compass, and sunrise and sunset alarms let you know when you need to get moving.
All these features will definitely take a toll on the battery performance though, which drops from 14 days in time-mode to between 10 and 15 hours with constant GPS usage. Simply recharge the lithium-ion battery though and you're good to go again.
Takeaway points for Suunto Traverse Alpha Stealth:
Extremely good navigational instrument
MIL-STD-810G standard
PRICE: Over $250
PERFECT FOR: This is THE outdoor watch for hunters, fishermen, explorers, and outdoorsmen of all types.
Suunto Traverse Alpha - Stealth
Features a rugged, knurled stainless steel bezel, durable water repellent nylon strap, and a premium...
Suunto's automatic shot detection technology keeps track of when and where you shoot, mapping the...
GPS tracks your path, helping you find your way back using the automatic breadcrumb trail,Compatible...
Location based moon Phase calendar with moon rise and moon set times helps you determine the best...
Operating temperature :-20° C to +60° C / -5° F to +140° F
Last update on 2021-05-19 at 17:11 / Affiliate links / Images from Amazon Product Advertising API
---
Marathon GPM
Marathon watches benefit from the engineering excellence of the Japanese in their Dual Winding Movement, and the mechanical watch expertise and craftsmanship of the Swiss with all models being assembled in La Chaux de Fonds, Switzerland.
The Marathon GPM is built to the MIL-PRF-46374G [2] military standard. This means that the watch has been tested and verified for long-life, water resistance, corrosion-resistance, high altitudes, and legibility in total darkness.
How does it achieve all of these feats?
It's made from a high-impact fibre shell and Composite 316L stainless steel, which does not compromise quality or durability while keeping weight low.
The minute and hour hands contain enclosed Tritium Gas [3], which ensures a constant glow in pitch-black conditions without needing prior exposure to sunlight. The lens is made from a 3mm thick dark-sapphire for scratch-resistance, and the enclosure ensures water-resistance to 3ATM, or 30m.
Finally, the strap is made from one piece of MIL-S-46383B Type II graded nylon, for both comfort and durability during wear.
It's a timepiece that's as suited to field infantry use as it is to day-to-day civilian wear, and its understated black and silver design ensures it'll look good in a military uniform or a tuxedo!
Takeaway points for Marathon GPM:
Multipurpose, can be used in active and civilian contexts
MIL-PRF-46374G and MIL-S-46383B Type II standards
PRICE: Over $300
PERFECT FOR: All military personnel who want a watch that makes as much sense at home as it does out on the field
Marathon General Purpose Mechanical (GPM) Military...
MIL-SPEC: Built to Government specifications for use by military personnel. Fulfills Nato Stock...
TRITIUM GAS TUBES: Self illuminating tritium gas tubes glow with no need to be charged by an...
FIELD WATCH: Designed for general infantry. Features a lightweight high impact fibreshell case and...
AUTOMATIC MOVEMENT: 24 Jewel NH35 self winding mechanical movement. Submersibility: 3ATM
SWISS MADE: Marathon watches are proudly made in La Chaux de Fonds, Switzerland since 1939.
Last update on 2021-07-13 at 01:43 / Affiliate links / Images from Amazon Product Advertising API
Advertisements: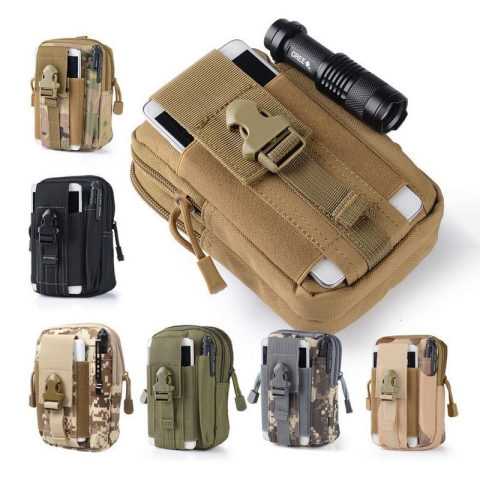 What are the toughest luxury watches?
In this price category, you won't have to make any exceptions. You're looking for a watch that will impress for daily wear, but will also easily survive your most reckless endeavors.
The toughest luxury watches combine timeless class and elegance in their visual appeal with extraordinary build quality and durability features.
You can expect to pay upwards of a few thousand dollars in this category, and probably consider it your main watch if you're not a collector.
Breitling Aerospace Evo Titanium
As the name suggests, Breitling's Aerospace timepieces are the watch of choice for pilots and aviators of all kinds.
An analog-digital chronograph timepiece, the Aerospace Evo uses the well-respected Breitling 79 caliber movement, which is at least 10 times more accurate than its standard Quartz counterparts. Its features include 1/100th of a second chronograph, countdown timer, second-time zone, alarm, audible time signal (minute repeater), and calendar.
As you might have assumed from the name, this model is composed of Titanium metal, offering extreme durability and impact-resistance.
The lens is composed of glare-proof Sapphire for premium scratch protection and maximum legibility, which is further improved in dark conditions with glowing lume applied to the numbers and hands.
Those familiar with this timepiece might tell you that the crown is often thought to be slightly too small for comfortable operation, especially considering that it's the primary method for operating the watch, which is definitely something to consider.
You can get the Aerospace Evo with a Titanium strap, or alternatively with the 'Anthracite' strap, which is composed of a strong polyamide fabric.
Takeaway points for Breitling Aerospace Evo Titanium:
Breitling 79 caliber movement for extremely accurate timekeeping
Glare-proof Sapphire glass
Luminescent hands
PRICE: Over $4300
PERFECT FOR: Avid aeronautical enthusiasts with a taste for luxury and precision timekeeping
Editor's note
: before buying, check this
detailed review
of the Breilting Aerospace EVO. Also, watch this video review (below), from
aaron_shapiro
Last update on 2021-02-25 at 03:54 / Affiliate links / Images from Amazon Product Advertising API
---
Omega Speedmaster Moonwatch Professional
Watch aficionados will know the Speedmaster well. It is a timepiece that has entered the history books as the first watch worn on the moon, being used by astronauts for Apollo XI in 1969, as well as the Apollo XIII mission, during which it served as a crucial instrument for the team's rescue.
To join a space mission, you have to stand up to a wide range of extremely punishing tests. The Speedmaster did just that, beating Rolex and Longines-Wittnauer to become the sole watch of choice for all manned NASA space missions.
The tests put the watch through high and low temperatures, vacuum cycling, extreme humidity, oxygenation, shock, acceleration, vibration, and more. It survived with the best post-test timekeeping accuracy, remaining within 5 seconds per day rate.
The updated version, the Moonwatch Professional, is composed of the same steel and Hesalite crystal [4] (or an option for a Sapphire crystal upgrade). It has water-resistance of up to 5 bar, and boasts the Master Chronometer certification, which improves the watch's chronometric performance, magnetic resistance, and power reserve capacity to 50 hours.
Three sub dials on the watch offer a Chronograph, Tachymeter, and small seconds measuring.
For a watch with an impressive list of rugged qualifications, it is remarkably beautiful in its aesthetic appeal. The black watch face offers a classically muted appearance that is contrasted by the shining brushed stainless steel.
Case, strap, material, and even gender variations of the Moonwatch offer the same trusted toughness in a way that matches your personal preference.
Takeaway points for Omega Speedmaster Moonwatch Professional:
The only NASA approved watch for manned space missions
Master Chronometer certification
Composed of Steel
PRICE: Over $5,250
PERFECT FOR: Astronauts, but also those looking to for the perfect marriage of extreme toughness with timeless luxury
Editor's note
: before buying, check this
2021 in-depth review
of the latest model of Omega Speedmaster Moonwatch Professional. Also, watch this 50 minutes video review (below), from WatchAdvisor.
Omega Speedmaster Professional Moonwatch Apollo 11...
The NAIAD LOCK case back assures the screw-in case back is oriented & aligned with the watch.
Omega Master Chronometer caliber 3861, beats at 21,600 vph (3Hz), contains 26 jewels & has an...
METAS Certified Master-Chronometer: The assembled watch, with its COSC certified Chronometer...
Anti-magnetic: resistant to magnetic fields greater than 15,000 gauss. Features a silicon balance...
Last update on 2021-05-31 at 13:33 / Affiliate links / Images from Amazon Product Advertising API
Comparison Table
To get a quick-look comparison of the key design specifications on all our toughest watch picks, view the table below.
Toughest Watches | Comparison Table
wdt_ID
Watch
Rugged Ratings
Movement
Weight
Case size
Glass / Crystal
Legibility
Warranty
1
G-Shock GD-350-1BER
60
Quartz
Japan made
75 g
2.64 ounce
53 mm
2.08 inch
Anti-scratching Mineral Glass
LED auto light
Two years
2
G-Shock GW-7900-1ER
75
Digital
Japan made
71 g
2.50 ounce
52 mm
2.04 in
Anti-scratching Mineral Glass
LED auto light
Two years
3
Suunto Traverse Alpha Stealth
80
Digital
Finland made
75 g
2.65 ounce
50 mm
1.97 in
Sapphire Crystal
Configurable LED backlight
Two years
4
Marathon GPM
90
Mechanical Seiko 24
Jewel NH35 self-wind
Japan made
46 g
1.62 ounce
34 mm
1.39 in
Sapphire Crystal
Tritium gas glow
for hands and numbers
Two years
5
Breitling Aerospace Evo Titanium
100
Breitling 79 Thermocompensated
SuperQuartz
Swiss made
99 g
3.49 ounce
43 mm
1.69 in
Sapphire Crystal
Lume applied
to hands and numbers
Two years
6
Omega Speedmaster Moonwatch Professional
100
Calibre Omega 3861
Swiss made
163 g
5.75 ounce
42 mm
1.65 in
Hesalite Crystal
Lume applied to
hands and numbers
Five years
Watch
Rugged Ratings
Movement
Weight
Case size
Glass / Crystal
Warranty
Max = 100
Conclusion
Regardless of your budget or intended use, there is an ultra-durable watch out there for you.
We've covered the top 6 toughest watches that stole our attention for their combination of impressive build quality, good looks, and additional features.
Given the range of price categories, it would be tough to recommend only one rugged watch for the general reader, but the Marathon GPM strikes us as a timepiece that would work on any person interested in truly durable timekeeping.
Its slim profile and weight is quite unique for a tough watch, but its modest size doesn't make it any less rugged, with more military standard gradings than any other on the list.
For those unconcerned with good looks who will mostly be wearing their rugged watches only in the toughest environments, look no further than the G-Shock GW-7900-1ER. It's exceptionally accurate, tough, and multifunctional, and because it's a solar watch, you will never be caught in a compromising situation without charge.
And finally, to those with money to spend on a 'forever' (#BIFL) watch with meaning, timeless elegance, and NASA-approved durability and technical prowess, the Omega Speedmaster Moonwatch Professional should be your watch of choice.
---
What to check next: The Most Durable Fitness Tracker. In this article, we are only concentrating on focussed fitness and health tracking watches. If they have the nifty features of smartwatches, such as messaging, payment, or pizza ordering, then great! More money saved down the line by getting two products for the price of one.
---
What do you think? Do you have a different opinion on the Toughest Watches? Be sure to share this article with anyone and everyone in the market for #BIFL durable watches. We regularly post guides similar to this one all about products that aim to last a lifetime, so stay posted if you agree with the Buy It For Life golden rule as much as we do.